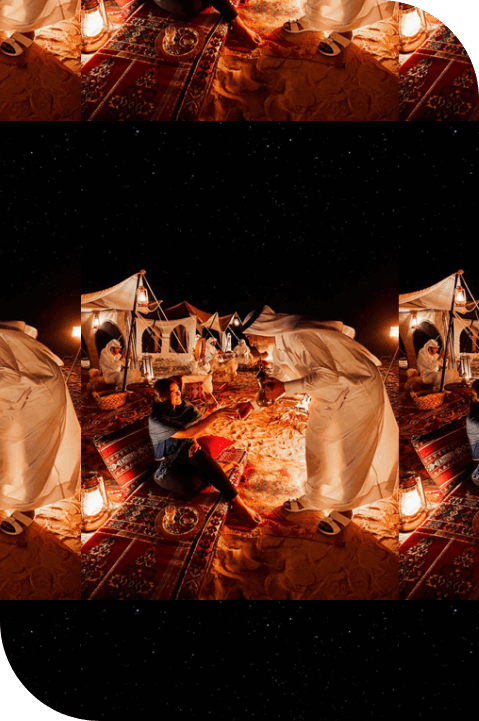 Things to do in Qatar & Travel Tips 2021
It's the small things that pack a punch! This rings true even for the tiny Gulf country of Qatar. They might not have much in land area but their development and cities are capable of rivalling some of the most modern cities around the world. Although Qatar has drastically evolved, its locals still value their traditions and culture which is visible throughout Qatar. They are a society that appreciates art, enjoys having fun and proving to the world that their size will never stop them from becoming a leading travel destination in the Gulf. This Arabiers guide is a compilation of best things to do in Qatar & important information that can help you plan your trip to Qatar.
Explore Now
Free things to do in Qatar
Are you doubting that Qatar has any free things to do? You might have got this impression by its accelerated development, posh locales and luxury hotels. However, if you look in the right direction, you will find that Qatar has numerous things you can do without spending a penny. Here is a list of them.
For the beach lover:
1. Visit any of Qatar's many beaches
Qatar's public beaches might not permit fancy sunbathing or swimming. However, you can indulge in some bird watching or just observe the deserted beach scenery.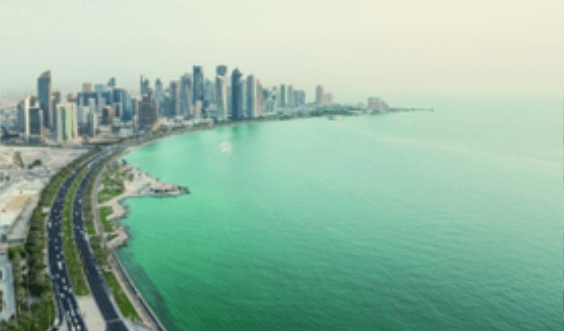 For the culture hawk:
2. Take a chilling walk in a spectacular park
You might be surprised to see that a desert country like Qatar can have this much greenery! Although there are numerous parks and you can choose to visit any, don't miss out on Oxygen Park in education city and the Museum of Islamic art park that promises uninterrupted views of the West Bay. If you are travelling with kids, then pack a picnic and unwind for a while!
3. Make a stop at Katara Village
This cultural village is an architectural marvel where you can spend an entire day strolling through it, observing the many artworks and just taking in the lively vibe.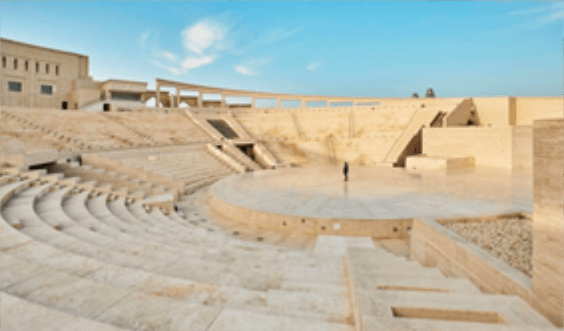 4.Walk in the alleys of Souq Waqif
A trip to Qatar is incomplete without a stop at Souq Waqif. This traditional marketplace still holds the ancient look of desert buildings that give it a movie-set like feel. You can choose to take in the vibrancy for free and do a bit of shopping if your wallet permits.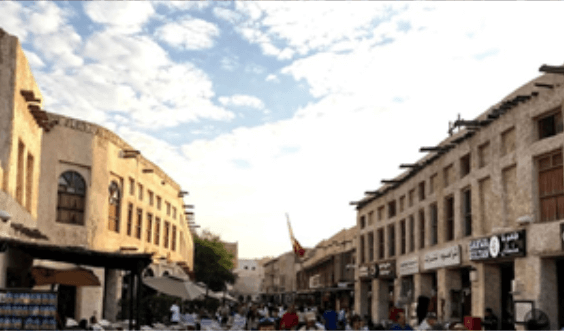 For the Animal lover:
5. Watch a live camel race
Make your way to the Camel village situated approximately 50 kilometres from Doha to watch a sport that Qataris put their heart, soul and loads of money into. Maneuvers by robot jockeys, you will be amazed to see how fast these gentle creatures can go.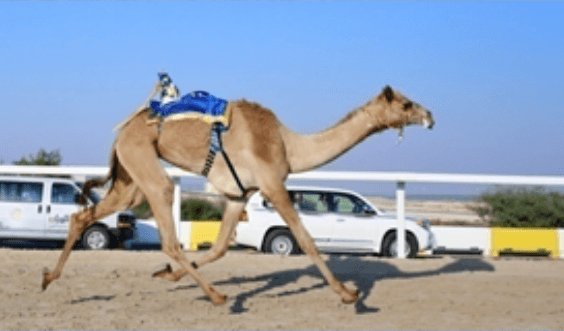 6. Visit an ostrich farm
Situated somewhere near Dukhan, the ostrich farm is more of an open style where the ostriches are allowed to wander freely. You can drive really close to them however, refrain from petting them as they don't like it.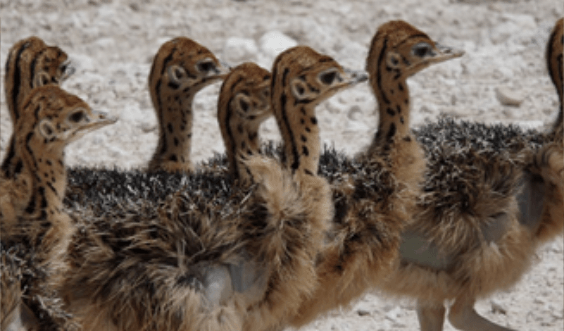 7. Drop by Al Maha Sanctuary
Al Maha Sanctuary in the Shahaniya district is home to Qatar's Arabian Oryx. This also operates as a breeding center and allows you to get a closer look of this graceful creature whose cartoon version you might have seen in any Qatar Airways related stuff.
For the history buff:
8. Admire ancient art
Head North to Jebel Jassassiyeh where you can spot more than 900 artworks that dates back to the Neolithic period. Believed to be some of the most well-preserved specimens of historic art, you will be able to see a variety of figures, some painted and some even carved onto the rocks.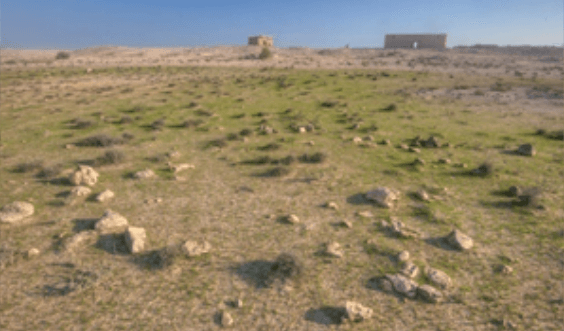 9. Visit a historical fort
The Zubarah fort and its vicinity are marked as a UNESCO World Heritage site. It was built in 1938, used by the Qatar forces for a long period and now converted into a museum that showcases Archaeological and pottery exhibits.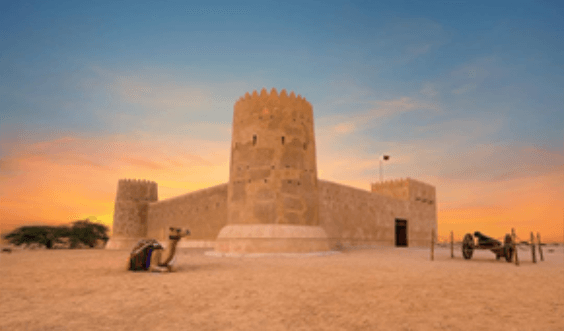 10. Stop by one or more of Qatar's museums
Stop by the Museum of Islamic art or the art Museum at Mathaf where you can see even their best of exhibitions for free. exhibits.

Desert Things To do in Qatar
The desert: unbearable during the day, scorching throughout but becomes a chilly hinterland at dawn. Throw in some of the cautionary tales of the wanderers who suffered and were left stranded, hallucinating and you're probably not helping its bad press either! But in all seriousness, it's just widely misunderstood. If anyone tells you that there's nothing fun about the desert, just show them the majestic, incredible case of Qatar. Qatar is what you call a modern-day miracle. Remodeling itself from a pearl fishing economy into the region's wealthiest metropolis, The Government of Qatar has gone to great lengths. It also strives to remodel the prospects of Qatar and also empower the Qatari people. Still unsure how the desert can excite? Leave it to Qatar to show you the way the boring and dry desert landscape gets a huge makeover and innovates itself into a fantastic and magical playground, jam-packed with wild and exhilarating activities!
11. Maneuver through the wavy desert dunes in an SUV
One can only imagine how gruesome and exhausting it must have been to cross the desert years ago. Look across the skyline and all that you will be able to see are enormous and gigantic sand mountains taking the form of those never-ending stretches of brown flat land completely filled with sand. But all that changes once you get yourself a monstrous SUV, capable of fighting the dunes of the desert. The desert can help make it your personal DIY roller-coaster or adventure ride. Your driver with all his experience can give you the craziest and exhilarating desert experience that the ginormous sand-stained SUV can take. Charging down the sheer plunges and zigzagging up against the enormous desert dunes that are so high that you have to lift your neck to see their peaks. These drivers are professionals with miles of experience and will regularly ensure that your ride will be a safe (but also a joyous) one.Book desert safari to explore Qatar desert
12. Enliven your day with some extreme sports
If you think that dune bashing makes your gut churn with excitement and jitters, then you might as well complete the whole package with the other extreme sports in store for you as well, such as sand skiing, quad biking and paragliding. Feel the warm windy breeze rush through your hair and also the adrenaline coursing through your veins as you drive down some large dunes revving the engine of your allterrain vehicle (ATV). Fair warning, the weather can get extremely unbearable so it's suggested by experts that it would be better if you spread these activities out over multiple days instead of cramming them all into one day
13. Watch a camel race
For centuries, camels have merely served as a means of transportation for people all over the world, mainly the Middle East. These slender (but buff), big-lipped creatures can carry up to 225 kilos and have earned the righteous name by being deemed the "ships of the desert". But sometimes it's likely that your closest encounter with one may have been a constricted, lazy creature at the zoo that isn't able to show its mighty characteristics. Qatar Helps you take things to the next level. At the Al Shahaniya Race Course, camels turn into powerhouse speed demons. Deeply established in the country's culture, camel racing is the traditional sport of Qatar and receives strong support from the People and Sheikhs of Qatar themselves. The stakes are at their highest during the period from November to February when a majority of fiercely competitive domestic and international tournaments are held to win coveted prizes like the Emir's golden sword. Watch as the prized camels get ready to battle, surging through distances up to 10 km and leaving nothing but sandstorms as they speed through. It's essentially equestrian, but more of the desert edition! You will be amazed to know that camel racing is technologically more advanced than most sports and uses miniature remote-controlled robot jockeys to "pull the reins"
14. Experience luxury camping on a desert beach
Who would have thought that you could just find a glamorous beach resort hidden within the folds of the brown desert? Dive into the Arabian Gulf for a relaxing swim within the soothing waves that crash into you and the warm but calming breeze for company. Thereafter, give yourself a rest on the plush, comfy beach chairs, and dig your feet into the sand and pass the day away while sun tanning. Arabian Adventures Qatar also boasts a row of luxurious private cabanas that come fully equipped with charging ports and ceiling fans. In the evening, spread a picnic mat across the sand to enjoy a waterfront dinner under the stars while the children play in the soccer and volleyball pits on the beach. Come nightfall, rest well in one of these spacious bedouin-styled apartment tents decorated with such pristine and grand decor. Uncannily different from the desert that this resort is based in, this experience somehow still fits seamlessly into the environment, curating a splendid escape from the hustle and bustle of the city. When in Qatar, don't just settle for these conventional, overpriced hotel chains that exist everywhere. Instead, be brave and take a chance that will absolutely leave you heart-throbbed by experiencing camping in the desert with style, luxury, and calmness!
15. Be amazed by eerie rock sculptures
Directly across the peninsula from Doha is Bir Zekreet, it is a region along the north-western coast presented with incredibly beautiful rock formations that make it really great to take some nice and creative photos. Centuries of endless strong winds have gradually consumed away from the softer sedimentary rocks, reshaping the limestone boulders into a variety of interesting shapes. Some embody the layout and form of mushrooms while others have certain holes carved through them like it has been pierced by an enormous sword. Bir Zekreet is a great geographical location with a rich history and it also looks like it came out of a Hollywood set. Beyond casual sightseeing, a group of professional rock climbers in Qatar also take part in regular expeditions to scale these cliffs and rocks. Adrenaline junkies, if you're up for a fearless challenge, you can head to the Doha Climbers and tag along!
16.Visit Qatar's most famous cavern
Within the Rawdat Rasid region lies Dhal Al Misfir, it is Qatar's most famous cave. Barely any light can glimmer between the jaws of this cavern, keeping the insides secretive obscurity that invitingly calls inquisitive explorers to climb into it. Inside, this 40-metre deep cave holds a marvellous natural phenomenon – a tremendous vault of fibrous gypsum, precious stones that are all sparkling beneath anything light passing through to transmit a warm glow. These gems, called "desert roses" for their mysterious resemblance to the flower, sparkle like a thousand minuscule fireflies fluttering around in a hurry. If you're fortunate enough, you may even spot the nests of Little Owls that make the cave their home. In spite of the fact that this fascination is barely the most adrenaline-pumping activity of the lot, it does make for a nifty pit stop for the inquisitive traveller to explore and snap a number of photos.
17. Be amazed by the bond of the falcon and its falconer
In Qatar, and around most of the Middle East, falcons are respected and regarded as a stately majestic fowl. Falconry was introduced centuries prior, where falcons offered simpler ways for hunting down various types of prey than endeavouring to shoot them from gunpoint. In today's modernized society, the sport of falconry proceeds to live on, and it is not shocking to discover that numerous amounts Qataris partake in falconry despite the over the top sums required in this competitive sport; falcons can cost up to a million Qatari Riyals and are provided with gear like radio screens, vehicles and different communication tools to help owners in tracking their hunters in action during tournaments. A set of falconry competitions, just like the Qatar International Falcons and Hunting Festival, are organised every year and admission is free. From the Altalee Championship, which tests the falcons' capacities and abilities in spotting their Houbara prey, to the Almazzain falcon beauty show and even the Little Falconer league championship, Qatar opens up a whole modern world of sport. In Qatar, spectating these age-old falconry and camel competitions is not only an invigorating encounter, but it also gives an understanding of the significant part they used to play within the lives of the Qatari individuals.
18. Observe the stone carvings in Al-Jassasiya
IJust off Al Shamal Highway along the North East coast is Al-Jassasiya, it is seemingly one of the most impossible to miss points of interest in Qatar, in no small part due to the fact that researchers have yet to date the origins of the stone carvings there. On the off chance that you take a walk around the area, which used to be a limestone quarry until 1957 after the revelation, you'd discover tons of strange and puzzling petroglyphs, which are ancient rock carvings. A total of 874 petroglyphs litter around Al-Jassasiya, each portraying shapes we see in our ordinary lives today! From geometrical designs to diagrams of daisies and creatures like scorpions and fishes. Best visited within the morning or evenings, Al-Jassasiya makes for an extraordinary day out investigating the ruins and brings out the enthusiastic archaeologist in you! Besides, within the age of data, the lack thereof at Al-Jassasiya makes it all the more appealing.

Water activities in Qatar
We've all been through the Doha climate that has somewhat progressed to a cooler state over the past few months with most of us even wishing and praying for it to last all year long. Even on the off chance that it could happen, it is highly likely that it won't! And while winter in this part of the world is very calming, comforting and pleasant, we can't neglect the fact that after all those days by the fireplace, our bodies still long for a few Vitamin D and perhaps maybe, a relieving rub of sunscreen to warm our skins up for the unlimited rays of bright and shiny sunlight. With the above-mentioned point expressed, here are the five most fun water activities that are gearing up for an amazing comeback -- in numerous regions within the nation -- to make the upcoming long months of summer a season to remember for the people visiting Qatar!

Weather
Qatar is a desert country facing summers with really hot temperatures and short-lived winters. Due to being geographically flat, the weather is uniform throughout the country.
Major seasons in Qatar
Qatar experiences two major seasons where the climate during April to October is very hot, the hottest being between May and the middle of October. Humidity levels increase during summer with the second leg of summer ( August and September) being uncomfortably hot. December to February are Qatar's cooler season. Qatar's winter seasons are like spring, with clear skies and milder temperatures. The lowest recorded temperature during winter is 57°F (14°C) and the highest is 72°F (22°c). Occasional cool or windy days are common in January with temperatures going below 50°F(10°C) at night and approximately 61°F (16°C) during the afternoons. The months of March and November are midway seasons when the weather is neither hot nor cold. The average temperature in Doha, Qatar's capital, varies between 65°F (18.5°C) in January and 99°F (37°C) in July. You can expect year-round sunshine in Qatar, but occasional cloud banks can result in overcast weather even during the summer months.
Wind in Qatar
The wind is common throughout the year but is more frequent during summer. The wind can also increase the temperature to approximately 104°F (40°C) during the summer months (October to April) and be the cause of numerous sandstorms. The wind causes an increase in temperature during the winter months too, with temperatures reaching up to 86°F (30°C).
Rain in Qatar
Rainfall in Qatar occurs during the winter season and is very scarce with total rainfall amounting to 4 inches per year. Occasionally, rainfall can happen during the months between March and May but never happens during the Summer months. Rainfall is usually brief with sudden continuous heavy showers that can cause flooding in the city
Best time to visit
If you are very sensitive to heat or consider the weather of your travel destination before finalising your trip then it will benefit you by knowing that the best time to visit Qatar is from the middle of November to the middle of March. The weather during this period can be described as pleasant and is not hit as compared to other months. December to February experiences sunny weather but with mild heat. Whereas, it is warm but not unbearably so between November and March. However, there can be a few rainy days between December and February.
How to pack?
If you are visiting during the winter months it is advisable to pack a scarf for windy days, a jacket or sweater for the night or cool days and clothes made of light material(cotton, linen, etc.) for the daytime. For visits during summer pack airy clothes made of lightweight fabrics like linen or cotton. A sweater or cardigan and scarf for AC places. Sunscreen, a pair of sunglasses and a hat or cap. Women are advised not to wear any shorts or miniskirts unless they are in a tourist resort. If you are planning to try a lot of water activities or aqua tours then pack a few pairs of swimwear. Men can opt for swimming trunks and women are advised to pack leggings and a cotton t-shirt as bikinis are only allowed in tourist beach areas. A waterproof cover for your phone and camera(if you are bringing one) and some water shoes are also encouraged. If a desert tour is on your list of things to do then a cardigan, lightweight clothes, open-toed footwear, sunscreen and sunglasses become even more important. If you chose an overnight tour or a morning tour then it is advisable to bring a cardigan or sweater too as nights can get cold in the desert. You can pack anything else that you require along with this. If you are carrying any medication make sure to bring your prescription and a doctor's letter to be on the safe side as some medications can be illegal in Qatar.
Qatar Tourist visa information
The Qatar visa procedure can vary depending on which of the below categories you belong to. Below are the categor
01

Free On arrival nationals

02

Armenia nationals

03

Pakistan Nationals

04

Bosnia and Herzegovina nationals

05

Countries eligible for Qatar-Oman Joint Tourist Visa

06

Free ETA

07

Prepaid Arranged visas

08

Visa Exemptions nationals
01

Free On arrival nationals

Qatar permits visa-free entry for individuals originating from more than 80 countries and permits them to stay for a duration that is also dependent on their category. Individuals eligible for this free on-arrival visa don't require any advance visa arrangements. They only need to show a valid passport with a minimum of 6 months of validity and a confirmed return ticket.
30 Days free on arrival nationals
If you belong to any one of these countries, then you are eligible for a waiver period of 30 days from the issue date. An extra 30 days can be added to the waiver. The visa allows you to stay in Qatar for 30 days in a single stay or multiple stays.
| | | |
| --- | --- | --- |
| Andorra | Hong Kong, China | Peru |
| Andorra | Hong Kong, China | Peru |
| Andorra | Hong Kong, China | Peru |
| Andorra | Hong Kong, China | Peru |
| Andorra | Hong Kong, China | Peru |
| Andorra | Hong Kong, China | Peru |
| Andorra | Hong Kong, China | Peru |
| Andorra | Hong Kong, China | Peru |
| Ecuador | Pakistan | Venezuela |
| Georgia | Panama | |
| Guyana | Paraguay | |
90 Days free on arrival nationals
If you are originating from the countries mentioned below, you are eligible for a 180-day valid waiver counting from the date of issue. You are permitted a stay duration of 90 days in Qatar that can be utilized in a single entry or multiple entries.
| | | |
| --- | --- | --- |
| Antigua and Barbuda | France | Norway |
| Argentina | Germany | Poland |
| Andorra | Hong Kong, China | Peru |
| Andorra | Hong Kong, China | Peru |
| Andorra | Hong Kong, China | Peru |
| Andorra | Hong Kong, China | Peru |
| Andorra | Hong Kong, China | Peru |
| Andorra | Hong Kong, China | Peru |
| Ecuador | Pakistan | Venezuela |
| Estonia | Malta | Turkey |
| Finland | Finland | Ukraine |
02

Armenian Nationals

You are eligible for a free on arrival visa that permits you to stay for 90 days in Qatar that can be used up in a single stay or multiple stays. This visa cannot be extended. However, you need to fulfil these two criteria to get this free visa:
✓

Passport must have a minimum of 6 months validity

✓

Confirmed return ticket

03

Pakistan Nationals

You will get a free 30-day visa upon arrival if you fulfil these criteria:

✓

PConfirmed return ticket

✓

Passport having validity of at least 6 months

✓

Own a valid credit card

✓

Proof of hotel booking for the entire stay in Qatar

✓

If travelling directly from Pakistan, must have a polio vaccine certificate

✓

Visa extension will be confirmed upon visa confirmation

04

Bosnia and Herzegovina Nationals

As long as you fulfil these conditions, you will get a free 30-day visa upon arrival in Qatar:

✓

Confirmed return ticke

✓

Must hold a permanent passport with a minimum of 6 months validity

05

Qatar-Oman Joint Visa eligible Nationals

If you are from any of these countries, you are eligible for an Oman-Qatar joint visa. This visa allows multiple entries to both countries and permits a 30-day stay that can be extended for an additional 30 days.

| | | |
| --- | --- | --- |
| Andorra | Hungary | Poland |
| Australia | Iceland | Portugal |
| Andorra | Hong Kong, China | Peru |
| Andorra | Hong Kong, China | Peru |
| Andorra | Hong Kong, China | Peru |
| Andorra | Hong Kong, China | Peru |
| Andorra | Hong Kong, China | Peru |
| Andorra | Hong Kong, China | Peru |
| Ecuador | Pakistan | Venezuela |
| Portugal | Norway | |
| Hong Kong | Norway | |

06

Complementary ETA (Electronic Travel Authorization)

If you are not eligible for a visa upon arrival but possess a valid visit visa or residence permit to Australia, Canada, New Zealand, Schengen Countries, UK or USA, you can get an ETA for free by filling up an online form prior to travelling. Along with the form you need to submit the following:

✓

Proof of accommodation in Qatar(hotel booking, host address, etc)

✓

Passport with at least 6 months validity

✓

Residence permit or visa copy for any of the countries mentioned above with a minimum of 30 days validity. Proof

✓

Proof of return trave

After your form has been submitted and requests approved, your ETA will be given with which you can obtain an on-arrival visa that gives you a single stay duration of 30 days. This visa can be extended for an extra 30 days. You have to apply for a new ETA if you are visiting again.

07

Visa-free nationals

IIf you are a GCC (Bahrain, Oman, Kuwait, Saudi Arabia and UAE) national you don't require a visa to enter Qatar

08

Pre-paid nationals

If you are not eligible for any of the above-mentioned visas then you have to apply for a prepaid visa.

Qatar Currency and Money exchangers
The local currency of Qatar is Qatari Riyals and is abbreviated to QAR. One USD is equivalent to 3.64 Qatari Riyals. It is always better to carry Qatari Riyals with you. If you wish to exchange money then these are some money exchange companies that offer a good rate and a good service

1. City Exchange Qatar
One of the best money exchange companies in Qatar, city exchange provides a secure and fast remittance service and money exchange. Visit them at:
Ras Aboo Abud street- Near Grand Hamad Street, Qatar Doha

2. UAE Exchange
One of the best money exchange companies in Qatar, city exchange provides a secure and fast remittance service and money exchange. Visit them at:
Ali Bin Abdullah Street, P.O Box 31645,Qatar Doha

3. 3. Al Fardan Exchange
One of the best money exchange companies in Qatar, city exchange provides a secure and fast remittance service and money exchange. Visit them at:
Ras Aboo Abud street- Near Grand Hamad Street, Qatar Doha

4. Unimoni Qatar
One of the best money exchange companies in Qatar, city exchange provides a secure and fast remittance service and money exchange. Visit them at:
Unimoni Exchange, Regency Business Center-3, Grand Hamad Street, P.O. Box 31645, Qatar Doha

5. Arabian Exchange Qatar
One of the best money exchange companies in Qatar, city exchange provides a secure and fast remittance service and money exchange. Visit them at:
Mercure Grand Hotel (Sofitel Shopping Complex), Ground Floor, Mushaireb Street, P.O.Box: 3535, Qatar Doha
Moving around in Qatar
Visitors can choose from many good quality transport options to move around in Doha. Here are some you can consider when exploring the city.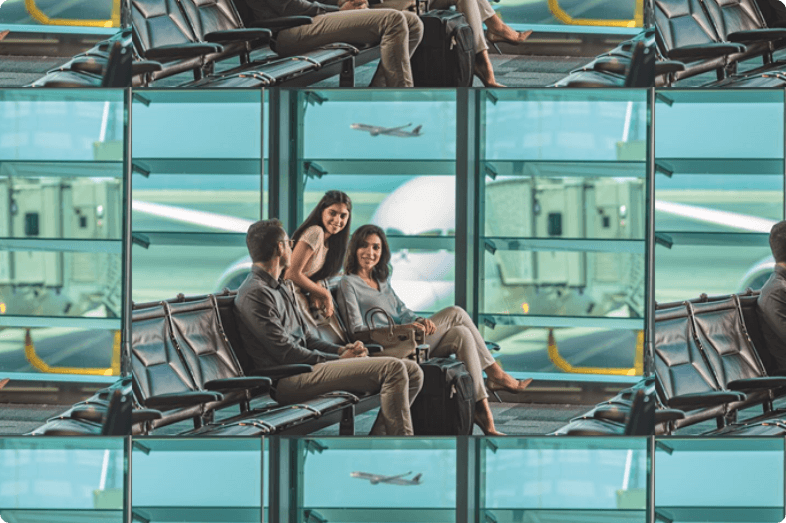 Public transport
Qatar's public transport services are easily accessible and cost-effective. You can easily move around Qatar with them.
Lean More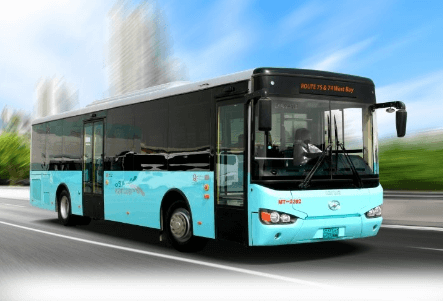 Public transport
The bus system is conveniently linked from Hamad international airport to numerous other locations within Doha city. Bus fare is not accepted by cash, rather you have to pay it with a Karwa Smartcard that can be purchased from a helpdesk at Hamad International Airport adjacent to the baggage claim belts 5 and 6.
Taxi
With taxis, you can easily travel from Hamad International Airport to any corner of Qatar. The Karwa Taxi stand is situated to the left of the Arrivals terminal. Travel time to Doha city centre is approximately 30 minutes. Only cash payments are accepted and all taxis are metered. Online taxi providers like Uber and the local version Careem are also available in Qatar. Simply download the respective apps and you will be good to go.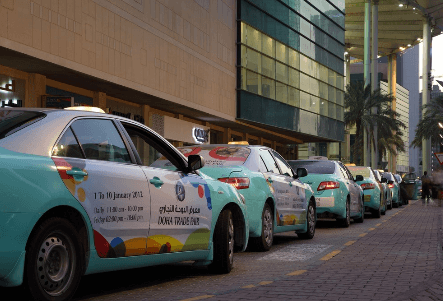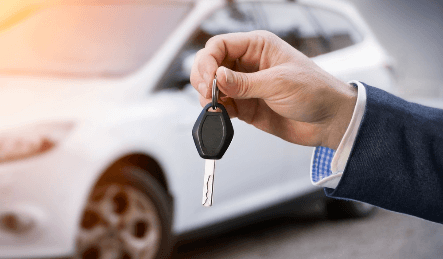 Car Rental
There are numerous reputed and local car hire companies in Doha. If you want to hire a vehicle at the airport you can head to Avis, Budget, Europcar or Hertz counters. These rental providers also have branches in the city.
Metro
Doha's innovative Metro links many landmark destinations in Doha. A tram system is also being developed and will be inaugurated in the near future. The Doha metro has 3 routes; Green, Red and Gold with 37 stations placed along 76 kilometres of rail routes. These routes join at Msheireb Station which is in close proximity to numerous cultural attractions in Doha. The Green line connects most educational institutions. It links Hamad Hospital, Qatar Foundation's Education City, Mall of Qatar and Al Bidda Park The red is the coastal lines and links Lusail, Qatar University, Katara, West Bay and Cultural village to Hamad international airport. The Historic line is signified in gold and joins Villagio Mall, Souq Waqif, Khalifa Stadium and National Museum of Qatar. The majority of the stations provide free feeder bus service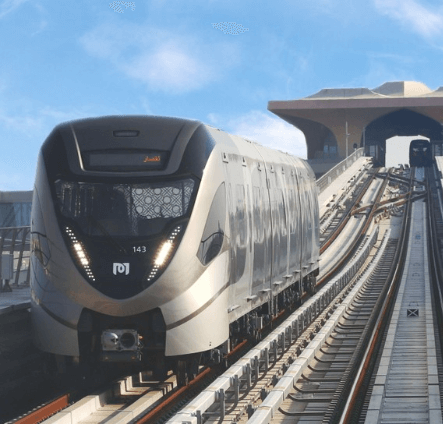 Local Language
Arabic is the native language of Qatar but English is widely used in all aspects. Road signs and shop boards are always in Arabic and English. The sales staff in malls and high-end shops might speak English but this might not be the case in Souq Waqif. As Qatar is made up of individuals from many countries, the other languages you will come across are Urdu, Malayalam, Tamil and Pashto to name a few.
Dos and Don'ts in Qatar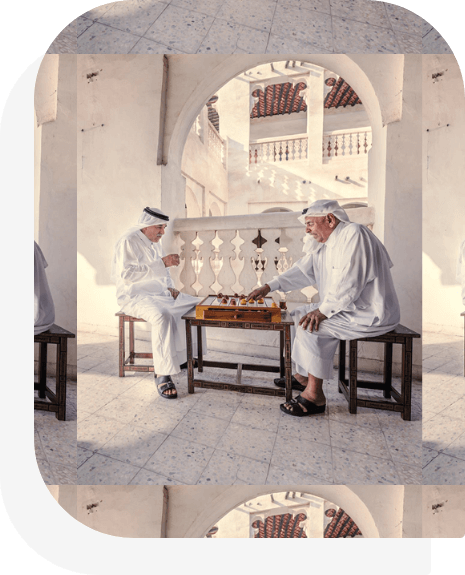 Whenever we plan to visit a new destination it is always best to read up on their cultural beliefs and the actions they encourage and those they frown upon. Although Qatar is well developed, the locals still value their heritage and culture. Also keep in mind that Qatar is a Muslim country with laws strictly related to the Islamic Shariah rules. The locals will overlook any wrongs in social behaviour if you are a foreigner. But, it is always good to start by understanding and respecting the traditional customs and local etiquette. Read and remember these few tips to ensure a pleasant experience in Qatar.
Don't
Drinking Alcohol in public is regarded as disrespectful. Drunk driving and drunken behaviour is also frowned upon.
Public shows of affection must be avoided as Qataris are conservative individuals.
Showing the soles of your shoes towards anyone in a gathering or meeting is an act of disrespect.
Offering your left hand while greeting or eating with the left hand is against the local customs.
Playing loud music while the Athan( Muslim call for prayer) is being called is considered very disrespectful.
Photographing locals, especially women, without their permission is not allowed. Similarly, photographing industrial
Eating in public during the fasting hours in Ramadan is disrespectful. From dawn till dusk are the fasting hours.
Wearing bikinis is not allowed on public beaches. You can wear bikinis in hotel private beaches though
Do
Dress modestly when going out as Qatar has a conservative culture where women cover up with abayas (long black cloaks) and men prefer wearing thobes (long white robes).
Carry a pashmina with you; it's good for covering up as it is lightweight. If you don't have one, drop by the Souq and purchase one from a huge selection of pashminas.
Offer your right hand while greeting people and always wait till they offer their hand. Some Qataris don't shake hands with the opposite gender while some do.
Qataris and all other Arabs value hospitality, so happily accept the invitation to visit their house if they make one. They don't have any secret agenda, they just love pampering their guests
Clean up after yourself if you visit a public beach. Avoid leaving litter behind.
Qatari waters are populated by poisonous stonefish, sea urchins and rocks that can prick your leg. Always wear beach shoes.
Most beaches don't have facilities so always carry water, sunscreen and shade.
Traditional Qatari food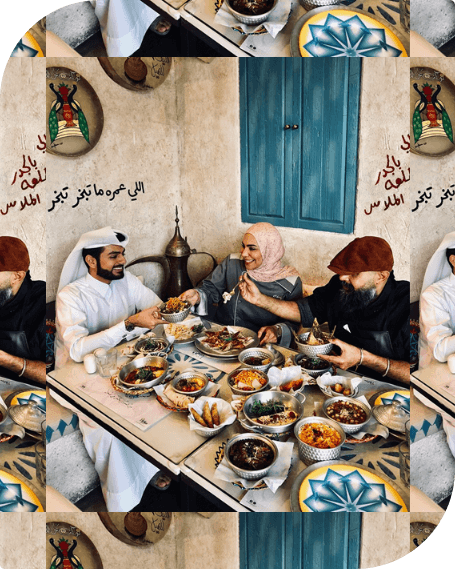 The Qataris prefer their breakfast light with staples like cheese and olives. Their lunch is a bit heavy with the mezze being a starter followed by rice dishes with meat stews. Dinner is mostly light but not during special occasions, festivals or Ramadan. Qatar's vast cuisine has many international elements too. If you have been to other Gulf countries, dishes like Tabouleh (a salad variety), Hummus (chickpea dip), Motabel (roasted eggplant dip) and Waraq enab (vine leaves stuffed with rice and lamb) might be familiar. These foods have their own variations locally and are usually followed by mouthwatering desserts like Mehalabiya (pistachio and rosewater pudding), Umm ali (bread pudding) and more. Qatari cuisine was influenced over the years by Indian, North African, Mediterranean and Bedouin cuisine. Their authentic spice blends and lengthy slow-cooking procedures are all proof of it. These are some of the local dishes you should try when visiting Qatar.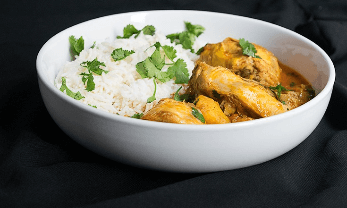 Saloona
Made up of vegetables like potatoes, carrots, tomatoes and aubergines which are brewed in vegetable broth or cooked with spicy meat. It is eaten with rice or by itself.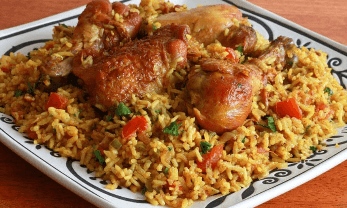 Machboos
Also known as Kabsa, this dish is very popular in Qatar. It is similar to biryani but has a more Middle Eastern flavour. It is usually made up of rice cooked with aromatic spices and a type of meat. You can find chicken, lamb, camel, shrimp or fish machboos. This is usually accompanied by a dressing made up of raw tomatoes, chillies and cilantro.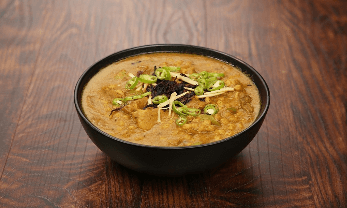 Madhruba
This beaten porridge is a staple during Ramadan. Rice is slow-cooked in milk butter and cardamom until it reaches a mashed consistency. Some variants of the dish include smashed beans or any variety of meat.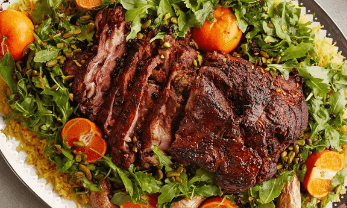 Ghuzi
Usually served on special occasions, this dish is made up of a full lamb roast laid on top of a bed of rice, vegetables and nuts.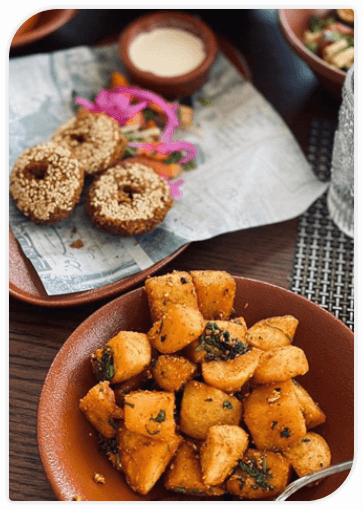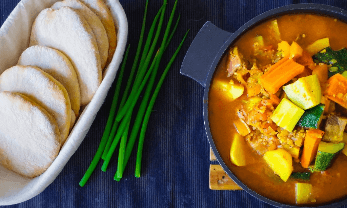 Thareed
Another Ramadan staple and favourite, Thareed can be described as the Middle Eastern version of Lasagna. Bread is the base of the dish so that it soaks up all the juices released by the chicken or lamb, vegetables like beans, potatoes, carrots and tomato sauce all mixed with aromatic spices and layered on top.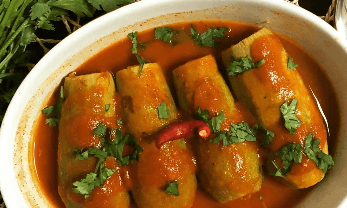 Kousa Mahshi
A popular dish in all parts of the Middle East, Kousa Mashi is nothing but Zucchini stuffed with mint and garlic flavoured minced lamb. This is then baked in the oven and served steaming hot as a delicious snack or mouthwatering appetizer.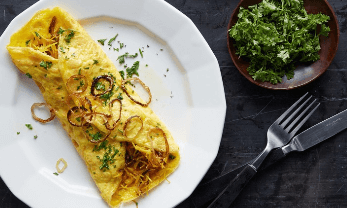 Balaleet
This is a dish that promises the best of both worlds. With a slight Indian influence, this dish is made out of vermicelli cooked with butter, sugar, cardamom and rose essence that is topped with an omelette. This dish is popular as a breakfast on Eid mornings and sometimes enjoyed as a dessert.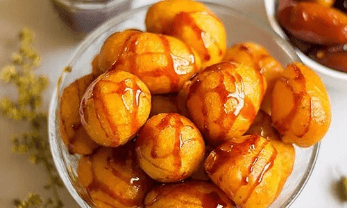 Luqaimat
Commonly prepared during the month of Ramadan, Luqaimat is made with a mix of flour, sugar, butter and milk that is flavoured with saffron and cardamom. This batter is then deep-fried to resemble the shape of dumplings and coated with honey or date syrup. The texture of soft and crunch mixed with the sweetness makes this a good dish to satisfy your sweet craving.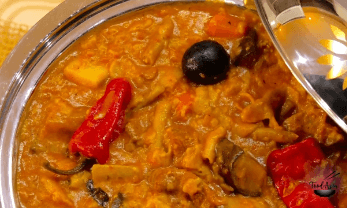 Margoog
A more rustic version of Pasta, margoog is made up of thinly cut layers of dough that are boiled in gravy cooked using eggplant, tomatoes, carrot, zucchini and meat.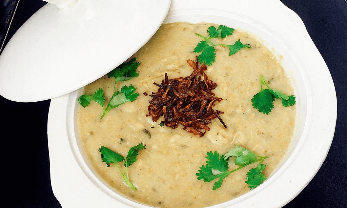 Harees
Identified as harissa too, this dish is made up of roughly ground wheat that is slow-cooked with meat until it becomes a paste-like consistency. The flavour profile is mind-blowing even though the ingredients are minimal. This food is not only tasty but also considered healthy which is why it is included in most iftars during Ramadan.